The locking system is arguably the most important part of a window. They can look good but if they donít stop the burglars they are less that useless.
A Lock is made up of some or all of the following parts:-
The Handle
Gearing
Espagnolette (Espag)
Shootbolts
Keeps
They are known as locking systems as they normally constitute more that one part. below is a short history of locking systems
Cockspur - 1 Point Locking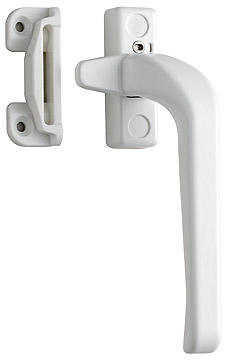 This is a very early type of locking system and is still used on some wooden and aluminum windows today. It constitutes just a single handle attached to the windows sash with a spur at 90 degrees that locks on the the window outerframe. The only security is the single point of the spur.
Espagnolette - 2 Point Locking
The handle on espag locking systems have a spline the attached to a gear box situated in the eurogrove of a PVC Windows. This in turn operated 2 mushroom bolts that lock to 2 keeps on the outerfame

Shootbolts - Multipoint Locking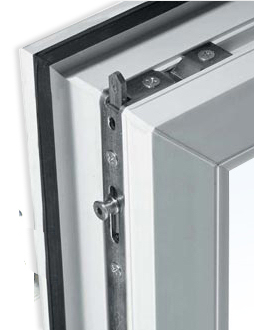 This the most commonly used locking system in the double glazing industry however donít think that you will be getting this as standard i can make at least half a dozen manufactures that still only use Espag locking as standard. A shootbolt locking system is just an Espag lock with extension that wrap around the corners of the sash and when locked extend up into the outerframe.
Window Keeps.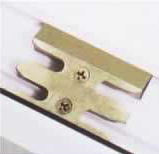 These are also very important as a the strength of any locking system is only as strong as itís weakest link. The Window keeps are screwed to the window frame and take the locking points. If these are make of plastic it wonít take much to pries them open. Donít confuse plastic with new composite materials as some of these can be as strong as metal and stop the reaction between 2 difference metals. So check with the manufacture.
Dog or SAC bolts
These are bolt and attach the the jam of the window and can look very secure. However are not totally necessary as most modern hinges have the same feature, donít get drawn into too many security advantages of dog bolt.
Summery of lock manufactures
| | | | | | | | |
| --- | --- | --- | --- | --- | --- | --- | --- |
| | Espaq | Shootbolts | Keeps | Secure by Design | Guarantee | Brochure Download | Score |
| Mila | Yes | Yes | Metal | Yes | 10 years | | 8 / 10 |
| Winkhaus | Yes | Yes | Metal | No | 10 Years | | |
| Maco | Yes | Yes | | Yes | 5 Years | | |
| Roto | Yes | Yes | | | | | |
| Millenco | Yes | Yes | | | | | |
| ERA | Yes | Yes | | | | | |
| Fullex | Yes | Yes | | | | | |
| AGB | Yes | Yes | | | | | |
| Avocet | Yes | Yes | | | | | |
| SAC | Yes | Yes | Metal / Composite | Yes | | | |
| Saracen | Yes | Yes | Metal / Plastic | Yes | | | |